I was a guest on NPR affiliate KPFA-FM/San Francisco CA with Living Room to talk about free speech on college campuses. Listen to the interview here.
---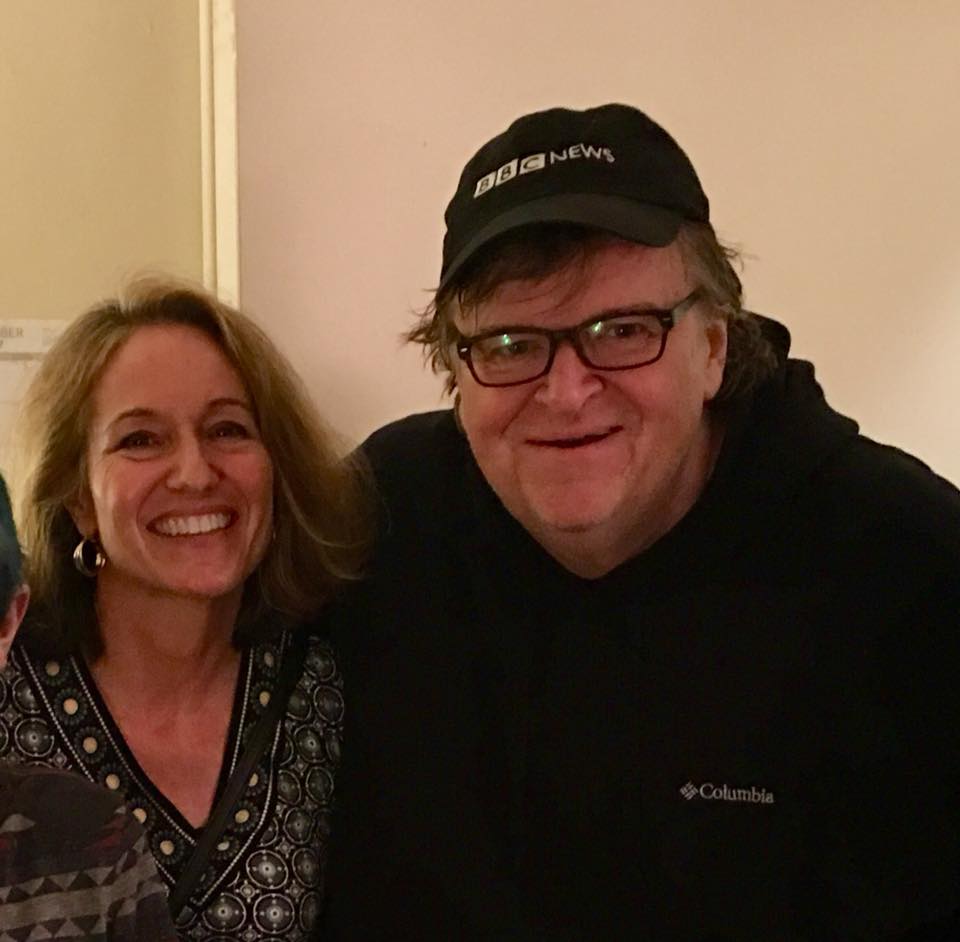 I went to see Michael Moore's new Broadway show, "The Terms of My Surrender" and I got to say hi backstage after the show. Read the Salon piece I wrote after seeing the show here.
---
McClennen lectured on "Satire in the age of Trump" at a reporter workshop for Der Spiegel in Hamburg in May 2017.
---
McClennen was a featured content expert at ICEE fest in Bucharest, Romania in June 2017. Check out coverage of her talk here.
---
McClennen joined a group of media experts to present on content at ICEE fest in Romania in May 2017. Her talk focused on how satire is better than the news at covering Trump. Check out coverage of her talk here.
---
Read the interview in German here.
---
I will be speaking on debts and rights at The Interdisciplinary Centre of the Social Sciences (ICoSS) in Sheffield on September 12.
---
I talked with John Grebe with WZBC Boston about the future of the DNC on July 23.
---
Thom Hartmann talked with guest Sophia McClennen on the many benefits and uses of satire–especially in the Trump era.
---
McClennen interviewed on SiriusXM's morning talk program "Stand Up with Pete Dominick" on April 19. Have a listen.
---
Author, teacher, and lecturer Sophia McClennen entered the Hawk's Nest on April 13, 2017 to help navigate the intersection of satire, news, and politics. Just how has the art of satire in the United States changed in the age of President Trump. Watch the clip here.
---
McClennen interview on satire in the Trump era for BBC Scotland.  Have a listen here
---
McClennen interviewed for XRAY FM on satire and Trump.  Have a listen.
---
You can listen to the Redacted Tonight Podcast from the Kennedy Center with Reggie Watts, Redacted Tonight comedians, and Sophia McClennen here.
---
McClennen to speak on satire, democracy, social media and millennials at a conference on The Politics of Dissent: Satire, Sarcasm, and Spite in Civil Society. Hosted by the Society for Values in Higher Education at Oberlin College, July 13.
---
McClennen to be interviewed during the Redacted Tonight Podcast, a radically hard-hitting satirical political exploration hosted by Lee Camp and featuring John F. O'Donnell. Part of the Kennedy Center Comedy festival. June 25, 2016.
---
Sophia McClennen to deliver the Keynote lecture for Lawrence University's Latin American and Spanish Film Festival on April 22, 2016.
---
The LaMarr Kopp faculty award recognizes, annually, a faculty member at The Pennsylvania State University for significant contributions to the advancement of the international mission of the University.
---
McClennen delivers the 2016 Sutherland Lecture at St. Michael's College in Vermont.
---
McClennen delivers the keynote for the 2016 English graduate student conference at Indiana University, Pennsylvania.
---
Interviewed on Univision's acquisition of The Onion. Will it affect their satire? find out here.
---
The Washington Post picked up my piece on millennial protesters from the Conversation. Check it out here.
---
McClennen quoted twice in Michael Moore's new film trailer.  See the trailer here: https://www.facebook.com/mmflint/videos/10153171747791857/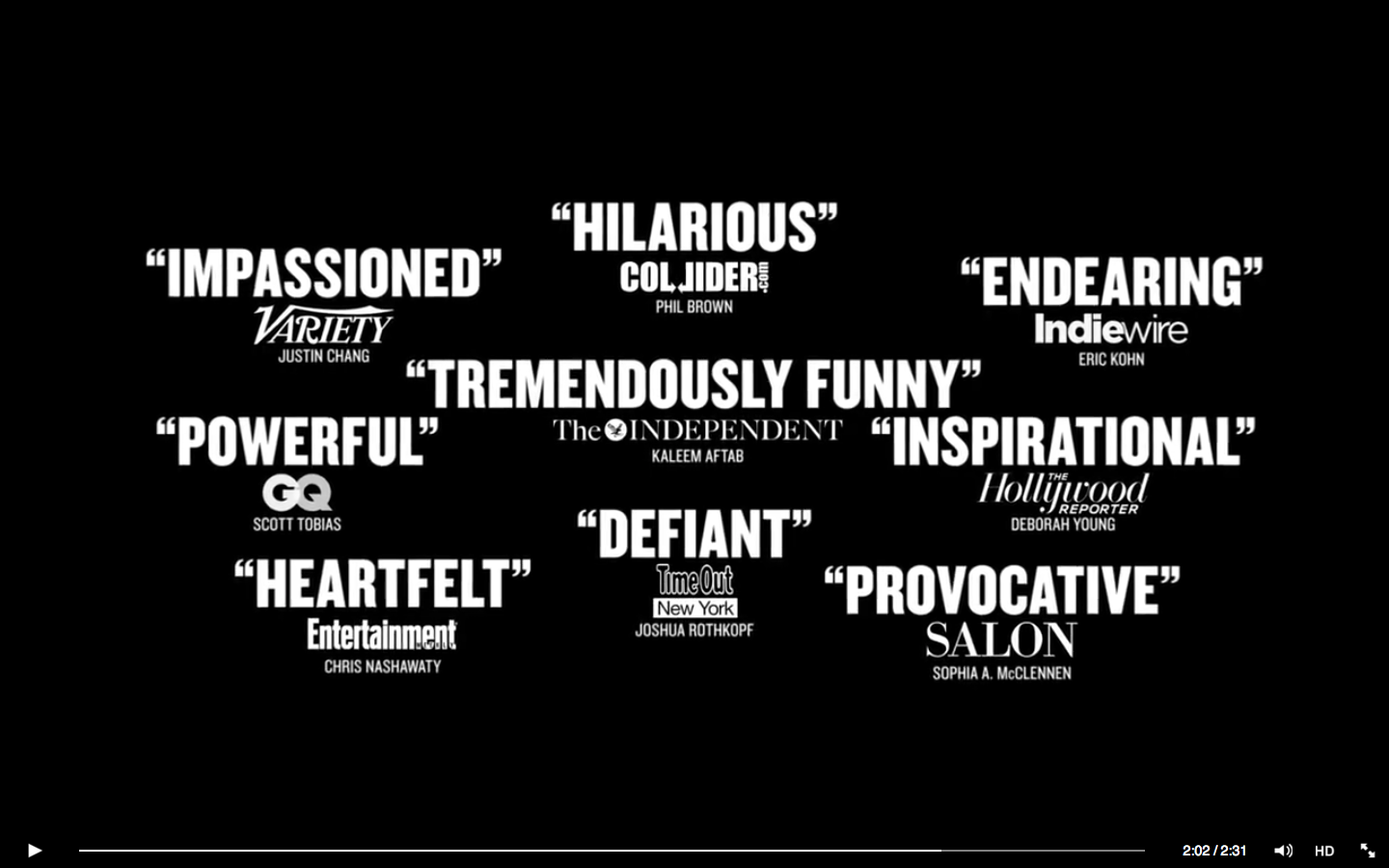 ---
Click here to read the essay at the JAST website.
---
View the clip here: Critical Attention
---
Truthout has published an excerpt from my co-authored book with Jeffrey Di Leo, Sophia McClennen, and Kenneth Saltman: Neoliberalism, Education, Terrorism: Contemporary Dialogues. Check out Twelve Theses on Education's Future in the Age of Neoliberalism and Terrorism.
---
My contribution to the The 2014 – 2015 Report on the State of the Discipline of Comparative Literature published by American Comparative Literature Association has just been released: "Ideas of the Decade: Human Rights."
---
Routledge has designed the book cover for The Routledge Companion to Human Rights and Literature.
---
Is Satire Saving our Nation?
My new book–co-written with Remy Maisel –will be out on October 30. Is satire saving our nation? Does our democracy depend on it? Or is satire destroying our faith in the political process? Pre-order to make sure you have a copy in time for the mid-term elections!
---
Check out the review of Neoliberalism, Terrrorism, Education in Academe.
---
Sophia McClennen and Remy Maisel have just received a book contract from Palgrave to write a new book: Is Satire Saving Our Nation? Mockery and American Politics. More details on its release soon.
---
McClennen delivers the 2013 Peace Perspectives Lecture at the University of Missouri as part of the Chancellor's Distinguished Speaker Series.  Details on the event here.
---
Daniel Mallinson reviews Colbert's America: Satire and Democracy for WPSU, our local NPR affiliate. Listen in here.
---
Alexandra  Schultheis Moore and I have just received a contract to edit the Routledge Companion to Human Rights and Literature.  The volume will have approximately 50 essays and will be framed as a must-have volume for those interested in the field.  See other volumes in the series here.
---
Penn State Live covers Colbert's America.
---
Listen to this interview with Eleanor Hall from ABC News (AU) on Colbert's America and US democracy.
---
Leah Wescott of Cronk News interviewed me for the debut podcast for "Fridays are Satiredays".
---
Alex Strachan for Canadian news on political comedy, the election, and young voters at Canada.com, The Edmonton Journal, and The Vancouver Sun.
---
Alexander Heffner writes* "Colbert's America* is a book for citizens of every creed who believe we are all entrusted with piloting American democracy."
---
Peter Bart from *Variety *on Colbert's new book and mine.
---
Watch this interview with me for The Wall street Journal Live on the upcoming Stewart v. O'Reilly debate.
---
Q&A with Sophia A. McClennen on 'Colbert's America: Satire and Democracy' with Kris Kitto for The Hill.
---
Kaitlyn Zurcher of The Daily Collegian covers Colbert's America here.
---
Media Post's Fern Siegel writes: "Sounding like the president of Colbert Nation, McClennen makes a thoughtful, well-researched case for concluding his satire is 'redefining the parameters of political dissent.'"
---
Listen to my interview with Jim Donavan, Morning News Anchor for WSYR FM 106.9 here.
---
Quoted alongside Al Franken in John Rash's "Laughing at, but not with, our politicians" for the Star Tribune.
---
Is Politico's Patrick Gavin trying to get me on The Colbert Report? Check out his piece here.
---
I spoke with Angel Clark for Radio Freedom on July 30.   Listen to the interview here.
---
Check out Gail Shister's piece on Colbert's America for TV Newser
---
Looks like we annoyed Newsbusters enough to get a piece by its publisher and the founder of the Media Research Center.
---
Colbert's America is mentioned in this piece by Paul Farhi for the *Washington Post. *
---
Penn State Comparative Literature Luncheon Lecture, January 23, 2012: The Art of Stephen Colbert
---
Click here for McClennen's interview on Viewpoints on Media Tracks.
---
Click here for McClennen's interview with John Cook on the Goodbooks Radio Show, KMBH-FM.
---
Click here for McClennen's interview with Joe Cooper on Topical Currents, WLRN.
---
Click here for McClennen's interview with Bill Vanko on WBAL News.
---
---
Quote from Dorfman himself: "I purloin the phrase from Sophia McClennen, my most astute critic, thus far, who has written extensively about my work, most notably in a new book, Ariel Dorfman: An Aesthetics of Hope." Art Bulletin, march 2009. Volume XCI, no. 1, p 58.
---